About Ravenous Games

If you're in possession of an IPhone and you consider yourself to be quite fond of the games you buy from its market, then without a doubt, you probably would have crossed with revolutionary titles like League of Evil, Cave Run and even the Ravenous Trivia. These are all very exciting and outstanding games that would definitely make you love your IPhone even more. Behind these great titles that got you addicted and wanting more, is the award winning company, Ravenous Games.
Ravenous games is one of many game development companies today based in Canada and it has set its eyes firmly on the mobile game market. This awe-inspiring company has been standing on the scene ever since its formal rise on 2005 and when you do the math, you'll definitely be astounded as they already have more than years of experience when it comes to developing games especially for the mobile market.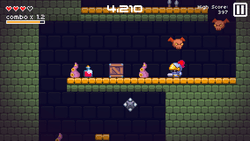 When 2009 came, 4 years since its official establishment, the company decided to limit their field of vision and start targeting the iOS market first. To test the waters of their decision, they've released the titles, Cave Run and the Ravenous Trivia. These titles begun the revolutionary rise of Ravenous games in the market and it also provided the company with the idea of their most renowned game, the League of Evil.
The League of Evil was definitely a revolutionary move by the company that has not only assured their rise on the industry, but it has also managed to make iOS games evolve to how we know them today. It has been quite some time now since the release of the critically acclaimed and award-winning game, League of Evil and from then on, many titles have followed its echoing path to success. Till this day, the company promises to give forth the best games that would satisfy customers and avid gamers on the iOS market that would certainly provide them with the excitement they're looking for.