Learn the Best Card Games for iPhone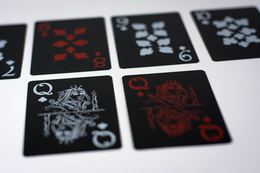 Card games remain to be the staple and prime option of Thunder Game Works when it comes to playing games in their leisure time. Some card games are incredibly fast-paced where you could squeeze it into your busy schedule whenever possible while there are also those which would require patience - perfect for those who would love to have a relaxing time with their phones. If you have an iPhone device, you'll surely have a long list of powerful options when it comes to iPhone card games you could enjoy. Card games such as video poker games for iPhone come in droves of the amount and although this is a good thing since you'll surely be able to find the right one for you sooner or later, the fact that you'll have to sift through a big pile of options is a hassle for many. Fortunately for you, it isn't really necessary to involve yourself with the whole lot of options in your iPhone App store. You could just read some of the details below and you'll surely find the perfect card games for iPhone that would keep you occupied and entertained in the foreseeable future.
iPhone Card Games
Whether it be card games for leisure time or those that can be used as iPhone Casino games, this page may cover what you need when it comes to card game options in the market. Although it is not guaranteed that you'll have every great option in the market in this article, what you surely should be reassured is that the options here will put a smile on your face when you try them out for yourself.
Classic Solitaire
If there's any card game for mobile that remains a staple in all platforms, the game of Patience, more known as Solitaire, is certainly the game you'd want to have on your phone. However, seeing as this is a classic game, you'll see varieties of options in the market that would be enough to confuse you. You should specifically look for the one that's made by the MobilityWare. Aside from providing an intuitive and classic appeal of the Solitaire game, it also comes with extra features.
The game of solitaire works under the premise of the regular rules. You'll just have to build the foundations of the suites one draw at a time and once all the cards are transferred into the foundations, you win the game. What makes this particular card game in iPhone, a highly impressive one, is the fact that you could change its theme for a more personalized experience. You would also be able to face challenges provided by the game in a daily basis and winning would also trigger a highly mesmerizing animation that would motivate you to play more.
Blackjack 21 Card Game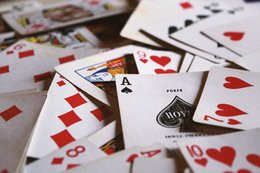 With its prestige and popularity is one of the most anticipated and thrilling card game in the waging industry, it is not surprising that this is also one of the best iPhone Casino games today. Blackjack is known for its simple gameplay yet highly rewarding and straightforward environment. You merely need to beat the dealer in his own game, by gaining a combination of cards that's higher than the dealer but lower than 21. This may seem like it's all about luck but, what will be tested out on this game is your capability to decide what moves you're going to make.
This particular Blackjack in iPhone that you should try is made by TapTapBoom LTD. It is highly appealing and comes with intuitive gameplay that would make you feel like you're playing in an online casino itself. There are also enormous bonuses that you could enjoy playing this game, allowing you to have an even better time than what you may expect.
Poker
There are numerous game applications out there that would introduce you to the game of poker and allow you to experience one of the best iPhone games out there absolutely free. However, what if you like to play it for real money? It is best that you go for Poker Stars regarding this matter. Poker Stars have innumerable poker rooms for players to enjoy and it is also known as one of the brands that are more superior than their competition in this specific market.
Your entry to the site will be welcomed by a heartwarming and heart-racing welcome match-up bonus of 100% up to $600. What will surely help seal the deal and make you completely motivated to play with the site's offers, is their long list of poker variants you could play, along with tournaments that you could enjoy as well. Countless tournaments have been hosted at this site here. People have gotten rich overnight here, so maybe you should see what all the fuss is about.
Through card games for iPhone, you could have the best time of your life anywhere you may be. Just make sure you download these best games and prepare yourself for a giant rollercoaster ride of excitement.